Your Last Wallet Ever.
Ditch your bulky leather wallet and upgrade to one that will last a lifetime. Yep, it's that tough. Carry cards, cash, and more at a fraction of the size of a traditional wallet. Prevent back pain and pickpocketing by carrying all your essentials in your front pocket. Do more with less.
Features
Holds 1-12 cards and 5 folded bills

Blocks RFID (wireless theft)

Money clip and cash strap included

Made from 

6061

aerospace grade aluminum

Specs: 2 oz | 86 x 54 x 6 mm
Free Gifts - Key Holder and Multitool Card included.
Box Set Includes - Wallet, money clip, multitool card, key holder, elastic cash strap, replacement screws, bottle opener, mini screwdriver, and stickers.
Thank You - A portion of the proceeds from every sale go to building tiny homes to help homeless veterans 🇺🇸
Warranty - Backed by our lifetime warranty.
We offer free standard shipping on all orders over $40 within US.
Global shipping is only available on Amazon.com at this time.
Standard Shipping (5-7 business days + processing) - $5.00 (Free on orders over $40.00)
Expedited Shipping (2-3 business days + processing) - $15.00

Priority Next Day Air Shipping (Temporarily Unavailable) - $25.00
The estimated times above are for the 48 contiguous United States only. Shipping to Alaska, Hawaiian Islands and US territories in the Caribbean and the Pacific will be longer.
All Armour Supply Co. products come with a warranty for the life of the product. 
In order to make a warranty claim, you need to have purchased your Armour Supply Co. product through our website or one of our authorized re-sellers. 
Customer Reviews
This Is My Favorite Wallet!
I went the minimalist way because we attach ourselves to so many things in life. We need them there just because that's the way we've always did it. Time to change that thinking. Now I carry my drivers license, insurance card, 2 credit cards, and the multitoll that came with the wallet. The wallet is in my front pocket comfortably. Getting the cards out is different but you will adjust. The quality and craftsmanship is top notch. I did experience some screws coming loose, but customer service sent out some new and improved ones immediately after receiving my email. Customer Service rocks! Approved by Dad.
Good compact wallet
This is my second wallet this style and I love it. This brand does seem better then my last one but time will tell. I've had it for a couple months I think so far but my last one took a while for the screws to start falling out. The multi tool is nice but does have a sharp edge which kinda hurts if you get caught in it. The orange is way more true then the color it shows online which I'm glad for. Would buy it again.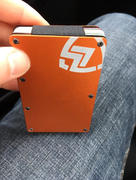 Review
Good Afternoon,Recently I purchased this product to replace my aging leather Fossil wallet. Specifically I was looking for a wallet that is slimmer and compact to make it easier to store. I browsed through numerous wallets before deciding on this one. Initially what caught my attention was the logo and color options available, especially the options without the Armour text. Currently, I am carrying around 5 cards in this wallet without any issue at all. I do not typically carry money, however I had a one dollar bill laying around. It sits quite secure in the wallet's money clip. If I ever find myself carrying more cash, I would be confident in the money clip. Overall the wallet has been splendid in its easy storage and feels quite durable. However, I must say that at first it was tricky to get used to accessing my cards. I do believe this was an adjustment to this type of wallet so this isn't an issue isolated to Armour. The product does come with the extras shown and are quite useful. Personally, I do not use the multitool card since I have no use for it. The key holder makes it quite easy to access frequently used keys. Lastly, I am quite pleased that it possess RFID blocking technology as I previously have been a victim. I have attached a few photos of my wallet and it compared to a 8.5 x 11 paper for size comparison.
I Like It A lot
I'm giving it four stars because I just got it but I have had other ones before. This wallet is alittle different in that you don't pull on a tab to get your cards. The tab broke fast so I wanted the thumb slot for longevity. The biggest issues I read with this and others like it is the money clip and screws falling out. The directions say only 5 folded bills max in the clip and 6-8 cards works best 12 max. Also just put some lock tight on the screws and boom screws aren't going anywhere. Will switch to 5 if it lasts like I believe it will. Love it so far.