Carbon Fiber | Stealth Box
*** All BOGO Sales Are Final ***
Say goodbye to your bulky wallet, noisy keys, and pointless pocket tools. The Carbon Fiber Stealth Box will change your everyday carry forever. Do more with less.
What's in the Box
Warrior Wallet, Kombat Key Holder, Mission Multitool, carbon fiber cover plates, black cover plates, money clip, cash strap, wallet coin tray, replacement wallet elastic, key fob ring / bottle opener, key holder extensions, and washers. Wrapped in a matte black gift box.  
Warrior Wallet
Replaceable rare-earth magnetic cover plates (carbon fiber + black included)

Holds 1-12 cards and 5 folded bills

Blocks RFID (wireless theft)

 
Money clip, cash strap, coin tray, d-ring elastic included 
Made from

3k carbon fiber weave with matte finish and 6061 aluminum

Specs: 2.7 oz |

86 x 54 x 9 mm
Kombat Key Holder
Replaceable rare-earth magnetic cover plates

(carbon fiber + black included)

Holds up to 6 standard keys, plus car keys and fobs
Extensions included to hold up to 10 keys
Detachable belt clip included
Made from 

3k carbon fiber weave with matte finish and 6061 aluminum

Specs: 1.85 oz | 86 x 30 x 9 mm
Mission Multitool
Includes 23 tools (bottle opener, wire cutter, chisel, letter opener, comb, box opener, metric ruler, hex keys and much more) 
Holds cash with money clip attached
Fits securely in the wallet or coin tray
Made from 304 stainless steel 
Specs: 0.70 oz | 

49 x 77 x 1.2 mm
Thank You - A portion of the proceeds from every sale go to building tiny homes to help homeless veterans 🇺🇸
Warranty - Backed by our lifetime warranty.
US Shipping
We offer free standard domestic shipping on all orders over $50 USD.
Standard (5-8 business days) - $5
Expedited (2-4 business days) - $10
Express (1-3 business days) - $20
---
International Shipping
We offer free economy international shipping on all orders over $200 USD.
Economy International (14-30 business days) - Cost calculated at checkout 
Express International (8-14 business days) - Cost calculated at checkout 
All Armour Supply Co. products come with a limited lifetime warranty.
In order to make a warranty claim, you need to have purchased your Armour Supply Co. product through our website or one of our authorized re-sellers. 
Customer Reviews
12/16/2021
Jatinder B.

Canada
Wow!
I love this wallet, I purchased the Carbon Fiber Stealth Box and it came LOADED with stuff. Shipping was prompt. The wallet is amazing, the coin tray rattles a bit but that's no big deal. The key holder is very cool as well as the extra matte black plates that were included. It would be cool to have a way to push and fan the cards out. Can't wait for the new accessories!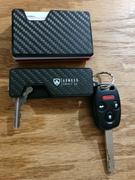 12/01/2021
Justin

United States
Great product and even better customer service!
They say "you get what you pay for" and they couldnt have been more right. Fast shipping in the middle of such a global crisis was my first surprise. Opening the box and seeing the time and quality put into the case was a second satisfaction of the day. Right then amd there i knew i would be impressed with this product. The wallet fits much more than i could have imagined. It holds all 8 of my cards snug without an issue and could hold more. The little compartment holds the holds my multitool and 2 folded bills. The strap holds 10 folded bills without any slipping not to mention the money clip. Every detail is of high quality. I had a minor mishap with my keychain(my fault) and i got to speak with their fantastic customer service agent "Alyssa K". She resolved my issue promptly and happily. It was a pleasure speaking with such a professional in customer service these days! Please keep her on board as an employee...she did a wonderful job helping me! I will be purchasing more products in the future and look forward to what is next on the agemda for Armour supply Co. Thank you for such an enticing and high quality products. They are worth every penny you pay!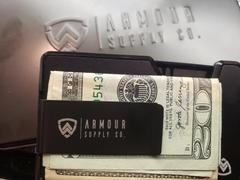 10/22/2021
TJ F.

United States
Best slim profile wallet out there!
Excellent, I have used other brands like the Ridge wallet and those tend to loose screws, my knee strap stretches out and gets a lot of pilling and not be as durable and adaptable as Armour Supply Co. Without a doubt the best design out there! I highly recommend and will only buy from Armour Supply Co. from now on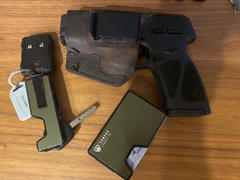 04/22/2021
Rick D.

United States
Easy to use and keeps it all organized!
I love my new Armour Supply wallet. My old leather wallet was worn out and starting to show its age. I ordered my new wallet and when it got here, along with my multitool and my key organizer, I found the build quality was excellent and was quickly able to get all of my cards into the wallet along with the change tray/multitool. Its nice to have everything safely inside the RFID blocking wallet and knowing that everything is secure and kept in its place.